When I acquired a Walker Turner 12" four speed wood lathe model 5110 a couple of years ago I immediately started scheming on a replacement spindle to allow me to use 1"-8 TPI accessories instead of the 12 TPI that W T used. (I have lots of 8 TPI faceplates.)
So I set about making a spindle to fit the lathe. I decided to use the existing bearings, as they were good after being cleaned up. A spindle to use modern bearings with standard 25mm bore would also be a bit more complex, so I went with the simple solution.
I used 1026 steel DOM tubing, 1/2" bore and 1-1/8" OD. Then I essentially replicated the dimensions of the original spindle with a couple of exceptions. The main difference is that in order to cut the threads on the right hand end I needed a "runout groove" for the threading tool, so I had to increase the length of that end by about 1/4". On the left end, instead of making the entire spindle the diameter of the bearing seat (.993"), I reduced the diameter from the end to the split ring groove to .991", to make bearing installation easier.
Keep in mind that W T used oddball bearing bores on this spindle. The right hand, double row bearing has a bore of .995", while the left hand bearing has a .993 bore.
Here are some pix:
First, the finished spindle in front of the old one.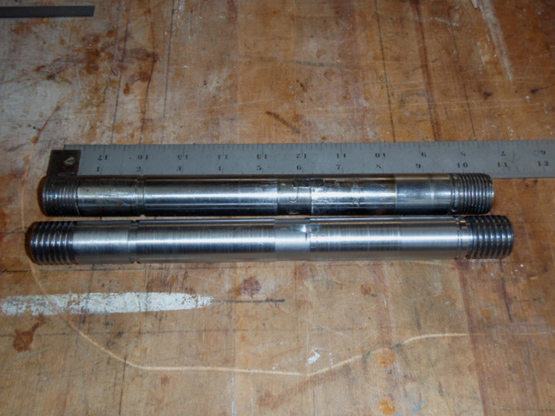 Pressing the "abutment ring" (my terminology) up against the snap ring. With this in place, I returned to the metal lathe and took a light facing cut off of the front of the ring.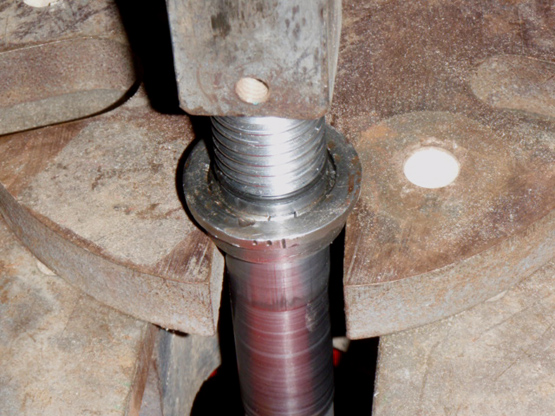 Add the bearing flange, gasket, and bearing spacer, then press the double row bearing in place. I put an O ring in the thread runout groove, and it holds a 1/4" thick shaper spacer in place next to the abutment ring: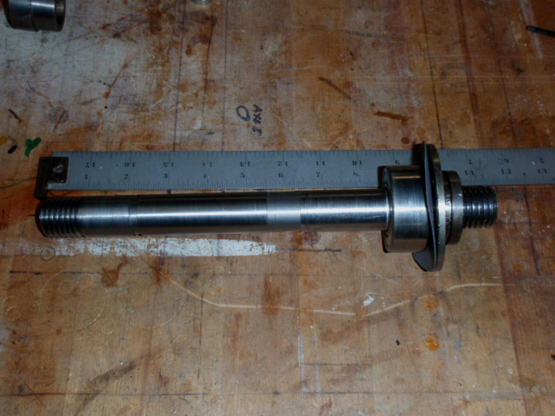 After a complete trial assembly, I found that I needed to relieve both bearing flanges slightly to provide clearance: