Some time ago I felt the need to create shop made name plates for some of the tools that I have made. I love the look of the old vintage brass plates that you could find attached to electric motors and the like. I have tried various methods including photo etching, laser etching and drag engraving. I have also tried using both brass and aluminium however the photo etched brass is the closest I could find to authentic vintage name plates. The problem with photo etching though is the number of steps required and the results can be disappointing due to fine detail being undercut by the etching solution.
I am lucky to have a small 50W laser engraver and this makes it relatively quick to etch away a painted resist however there is always a fine film of resist left on the surface of the metal and this leads to an inconsistent etch depth. I recently purchased a DIY powder coating gun and due to the robust nature of the powder coated surface it makes not only an excellent resist but it can also form the coloured component of the finished name plate.
I needed to add some artwork to a restoration project that had originally been applied to aluminium using either a screen printing process or a pad printing technique and it's fair to say the the original artwork was still readable after nearly 60 years however it was not going to make it through the restoration process so I decided to make a new name plate and rivet it to the metal on which the old artwork was printed. I also decided to make my own rivets because I wanted them to be very low profile. I have included both the etching process and the production of the rivets in this video. Nothing in it is especially new or unique but you may find bits of it useful, I hope.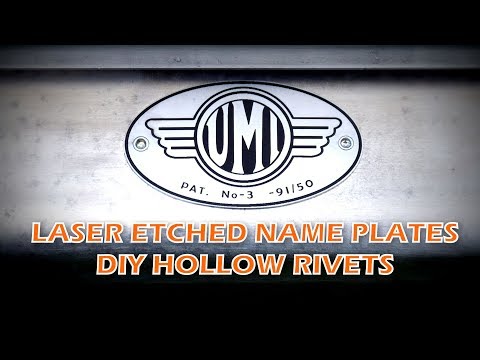 Regards,
Preso