This is part tool gloat, part review, and part looking for information.
Anyway, I picked up one of those stupid-cheap ($230cdn) mini CNC mill/engravers from ebay. The primary intent is to learn how to run a CNC mill so I don't look the fool when I go to use the Tormach mills at work. We have 4 for the students to use... perks of working at a college. Not my department, but I make nice and they owe me. So, I don't
really
care if all I can mill with this little thing is foam, but I'm going to push to see what it can do anyway, of course.
The machine is this: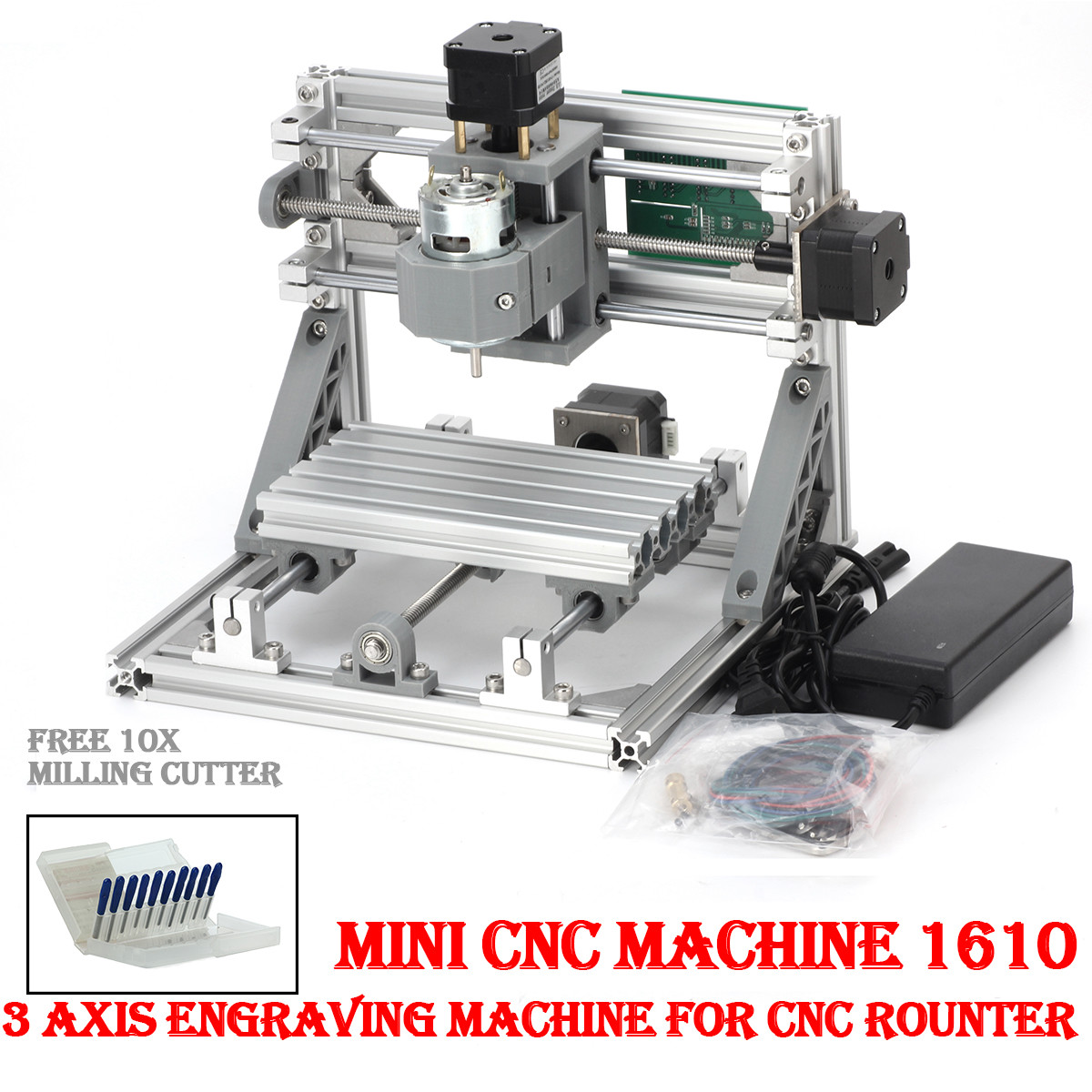 edit: the above "included milling cutters" are engraving bits. Simple single flute... basically pointed D bits. Needle-sharp points though.
The box I made to put it in and, hopefully, contain the mess:
Turned out okay. The far side has a couple of computer fans that pull air through an engine air filter element I bought for my van but never got around to installing. Time will tell if it's worth the effort.
Review wise... the thing that was supposed to be "partially" assembled came in a nice box of well-packed little bits. Nearly everything had to be put together but there was decent documentation on a CD and it only took me a couple of hours. I ran up the included GrblControl software and it worked straight off, fully configured. It is actually more sturdy than I expected, but my expectations were quite low heading into this.
My first oops, where I stalled the spindle motor with stupid CNC commands, end up popping the included 24vdc power brick. Dead-Dead, no coming back without disassembly, which I'll likely not bother doing. I switched over to an old 20vdc laptop brick I had laying about and am currently waiting for a 20A boost converter to arrive from China that will let me dial in whatever voltage I want. The mill is suppose to work up to 30vdc and that should give better spindle speeds anyway. Oh, I've got a salvage 56A/12vdc server power supply waiting for that boost converter to arrive.
Learning how to use it has been... challenging. Pretty steep learning curve, even after figuring out 3D printing.
I'm at the point now were I can write something in InkScape, export it to Fusion 360, convert it to Gcode, and run that Gcode through GrblControl to actually get it to do something. Yes, there's a lot of bits to learn in that particular tool-chain. Another chain, figured out tonight, is Fritzing PCB export, through FlatCAM to Gcode, and then through GrblControl. I couldn't figure out how to get the included CopperCAM software to generate anything useful so FlatCAM it is, though that one is not exactly the easiest program to get one's head wrapped around either.
So, yeah, the tool-chains are in place, but all I've actually milled so far is paperboard. There are still a lot of blanks to fill in, but I'm having fun.
So, I'm open to any insights you may have on mini-CNC milling or engraving. If anyone has been contemplating getting one of these things, I'll do my best to answer any questions you may have. Other than that, I'll come back and post some results, assuming I ever get any worthy of a picture.
Wish me happy "Rountering"
David...