This is what I posted a few days ago when I had it set up on my mill with the back fence support and slitting saw.
It's going to be the new motor shroud or rap for the old Craftsman bench grinder.
The original one was chrome plated and it was pitted all over and and looked pretty bad. No luck in finding one for this antique so I had to come up with my own idea.
I found a piece of 22ga. mirror finish stainless, cut it to the proper size and did m own custom pin striping. When done it's going to be pretty hard to tell it from the original part. I just have to come up with a way to roll it.
I used 1/8" fine line masking tape for my stripe work. Then a light pass with some old worn out glass beads that are almost dust.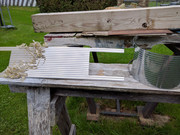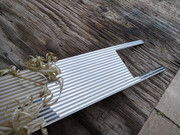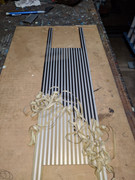 JL................