I'm getting close to finishing a rebuild of an older Wellsaw M1000 horizontal bandsaw, and have a bit of a question.
Here's the "downstream" roller guide and bracket for the chip brushes: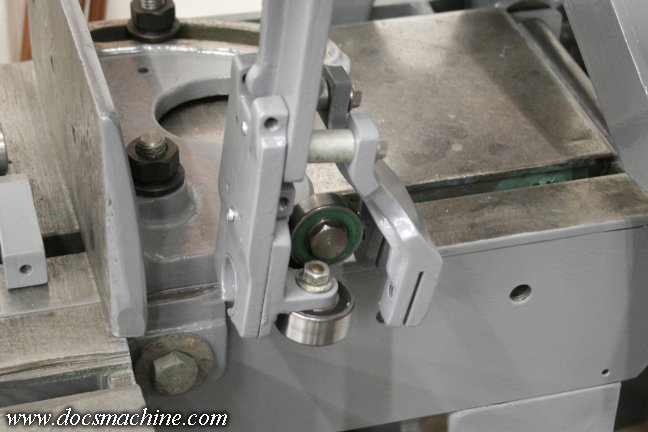 When I got the saw, the guides were backwards, with the chip brush ahead of the workpiece, on the "upstream" side blade guide. The manual shows the chip brushes in the configuration as shown above. (Of course, it also shows the standoff collars between the bracket and the bolt head, but we won't get into that.
)
Anyway, I keep wondering if it wouldn't be better to mount some chip brushes
before]
the guide rollers, to keep chips from trying to jam in between the blade and rollers.
When I was running this thing before I tore it down for the rebuild, I would occasionally have an issue with "blade jams" that I couldn't seem to cure. I always thought it was the blade sticking in the work, but now I wonder if it wasn't crud jamming the blade at the guide roller.
Doc.