This is a small program I wrote for calculating what size drill to use for tapping a hole. The program defaults to National
threads which most online charts seem to be based on. It can also calculate Unified threads as well as the hole size for
Forming taps. The program will prompt for Major Diameter, TPI, and Depth Of Thread (DOT). It will output the calculated
hole size and nearest drill size along with actual DOT. It also prints a chart of standard sizes to either side of that size
along with their calculated DOTs. Here is a screenshot of what 1/4-20 at 75% DOT looks like: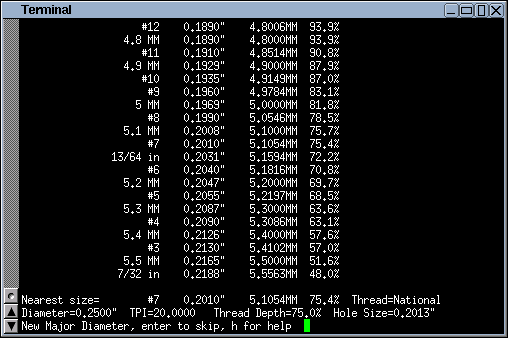 This is what the help screen looks like: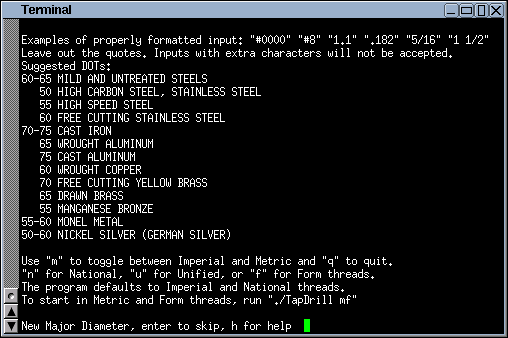 The suggested DOTs on the help screen were posted by mklotz in several threads on this forum.
The .zip file linked to here:
contains 3 files.
TapDrill.exe runs in a Windows command window.
TapDrill runs in a Linux terminal.
TapDrill.txt contains this brief description:
Code:
There are 2 executables in this archive. TapDrill.exe is a Windows
executable that runs in a command window. It will not run under DOS.
TapDrill with no extension is a Linux executable.

The program will prompt for Major Diameter, TPI, and Depth Of
Thread. It calculates hole size and closest standard size drill
bit. It also prints the standard sizes to either side of that
drill along with the percent Depth Of Thread they would produce.

The program does Imperial and Metric. It also can do National,
Unified, and Form threads.

This is what the screen for 1/4-20, 75% DOT, National thread looks like:

------------------------------------------------------------------------
                    #12    0.1890"    4.8006MM  93.9%
                 4.8 MM    0.1890"    4.8000MM  93.9%
                    #11    0.1910"    4.8514MM  90.8%
                 4.9 MM    0.1929"    4.9000MM  87.9%
                    #10    0.1935"    4.9149MM  87.0%
                     #9    0.1960"    4.9784MM  83.1%
                   5 MM    0.1969"    5.0000MM  81.8%
                     #8    0.1990"    5.0546MM  78.5%
                 5.1 MM    0.2008"    5.1000MM  75.7%
                     #7    0.2010"    5.1054MM  75.4%
               13/64 in    0.2031"    5.1594MM  72.2%
                     #6    0.2040"    5.1816MM  70.8%
                 5.2 MM    0.2047"    5.2000MM  69.7%
                     #5    0.2055"    5.2197MM  68.5%
                 5.3 MM    0.2087"    5.3000MM  63.6%
                     #4    0.2090"    5.3086MM  63.1%
                 5.4 MM    0.2126"    5.4000MM  57.6%
                     #3    0.2130"    5.4102MM  57.0%
                 5.5 MM    0.2165"    5.5000MM  51.6%
                7/32 in    0.2188"    5.5563MM  48.0%

Nearest size=        #7    0.2010"    5.1054MM  75.4%  Thread=National
Diameter=0.2500"  TPI=20.0000   Thread Depth=75.0%  Hole Size=0.2013"
New Major Diameter, enter to skip, h for help
------------------------------------------------------------------------

This is what the help screen looks like:

------------------------------------------------------------------------
Examples of properly formatted input: "#0000" "#8" "1.1" ".182" "5/16" "1 1/2"
Leave out the quotes. Inputs with extra characters will not be accepted.
Suggested DOTs:
60-65 MILD AND UNTREATED STEELS
   50 HIGH CARBON STEEL, STAINLESS STEEL
   55 HIGH SPEED STEEL
   60 FREE CUTTING STAINLESS STEEL
70-75 CAST IRON
   65 WROUGHT ALUMINUM
   75 CAST ALUMINUM
   60 WROUGHT COPPER
   70 FREE CUTTING YELLOW BRASS
   65 DRAWN BRASS
   55 MANGANESE BRONZE
55-60 MONEL METAL
50-60 NICKEL SILVER (GERMAN SILVER)

Use "m" to toggle between Imperial and Metric and "q" to quit.
"n" for National, "u" for Unified, or "f" for Form threads.
The program defaults to Imperial and National threads.
To start in Metric and Form threads, run "./TapDrill mf"

New Major Diameter, enter to skip, h for help
------------------------------------------------------------------------