One of my hobbies is knife making, and I'd like to add a benchtop mill to my garage shop. I'm sure it would be used for other projects, one I already have in mind. But I have zero milling or machining experience.
I've asked other knife makers and they mostly have Precision Mathews, Grizzly, LMS, and a few Harbor Freights. Almost everyone recommends a square column mill. So I've done a little research on the topic. I've also watched FB and CL locally for at least 6 weeks and it doesn't look like used is an option. And anything bigger isn't an option, I just don't have the space.
So, I'm considering two options.
1. Buy the ~$600 version from Harbor Freight to get my feet wet. I can get started without spending a ton of money, and I can sell it and get most of my $ back and upgrade later. I could use the same vise, tooling, etc.
2. Just budget more $ and buy a new PM, LMS or Grizzly.
I hope to use it for milling guards and small folder parts. These are generally small or thin parts, and I don't think mill size or power are going to come into play here. But I have a few other projects I'd like to try on my own, one of which I'll try and outline below;
I'm trying to make an attachment for my belt grinder. One part requires milling slots into a piece of 6061 (slots are .25 deep, .50 wide, and 2.5" long) I'll post a photo of what a similar piece looked like;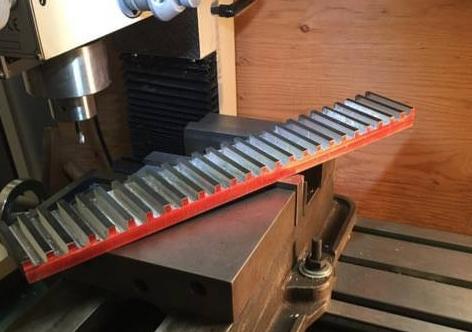 Are the mills I'm looking at going to be able to have larger projects like this? Are there any particular features, etc that I should look for based on what I'm needing it for?