I got one of these new CNC machined props in for repair last week. I know they have been around for a while, but this is the first one I've got in for repair.
I would love to see one of these being made. I'm guessing they are done on a six axis mill or I guess what they call machining centers now.
I wonder how long it takes to machine one of these from start to finish. I'm sure they are cast and then milled. Both sides are milled and also around the hub.
I would imaging that they use a ball end mill and the prop rotates as the quill comes down cutting across the blade face. It must be moving pretty fast as you can see the skipped marks from the cutter, very consistent though and you can feel the wash board effect. I would think that would cause turbulence in the water.
Two of the blades were ground a little on the back side for balancing, something milling can't accomplish. So there is some manual work done on these.
I'm kind of wondering how cost effective this process is as compared to say an investment cast prop. I just don't see any point in machining a prop in this manner other than some innovative selling point. And when you have to get it repaired........ there goes all those pretty consistent mill marks.
JL............
I had to weld it up with Nibral TIG rod.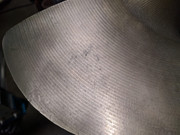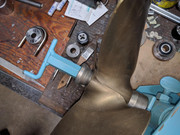 Finished......