I was going to get a new one or at the least an aftermarket one, until I saw the prices on these. So I decided to repair it again.
I welded it up and re-tapped the hole probably about 15 years ago or so. I think that the prior owner did the same at one time.
I never could keep it tight. It always seemed to loosen up and I was constantly tightening the 10-24 set screw until the other day when it broke looses around the screw.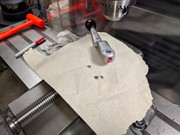 This time I ground it all out around around the screw hole until I was into clean metal. I turned a copper plug to insert into the hole so it would retain it's shape.
I welded it up and filed it down into shape.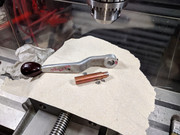 I need to file out the key slot a little so it will seat a litter lower on the shaft.
While I was at it I hand filed a new key that fits much tighter in the oval slot. Hopefully that will reduce any play.
If this fails then I'll cut the end off the lever and make one out of 6061 and weld it to the handle.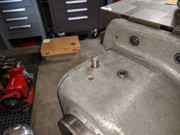 JL................