A friend that I worked with in a shop had one of these about 10 years ago. I thought it was kind of handy since you didn't have to deal with rods and snug clamps.
He always complained that the chips would collect around the magnet and it was a pain to remove them, it was also sometimes hard to pull the magnet from a surface and if you didn't watch your fingers when you set it down you could get pinched, the sudden snap didn't do an expensive dial any good either. One day he got PO at it and tossed it. I was going to grab it out of the trash but figured if he didn't like it neither would I.
So, ten years later I decided to get one after seeing the one advertised as having the quick release. The company website didn't give any detail on the quick release one and all the pics I found just showed a lever on the side. So, I called the company and spoke to some woman. I asked how the lever deal worked and if you put the lever on the V hole side how do you hold the rod in the hole?, she didn't really know what I was talking about or how to explain how it worked. She said that you could remove the lever and place it on the other side if you wanted to. I'm even more confused.
Somehow I was envisioning that there was some rod that ran through the thing the moved the inner magnet so you could release it. I thought that there was maybe some cam deal on the back of the lever. I was thinking of all kinds of ways it could work.
So come to find out, the lever is nothing more than a rocker type pry bar. Sure you can mount it on the other side but because the screw hole is higher on that side the bottom of the lever doesn't touch the surface that the magnet contacts. Totally worthless to put it on that side. Glad I didn't pay much for it.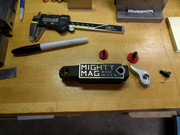 It works on this side as you can see the lobe extends below the magnet base, but..... now you can't use the V hole because the lever is mounted in the hole that the knob would go into to hold a rod. If I do decide to use it I'll have to file down the end of the screws on the two red knobs other wise they will carve circles in a soft rod.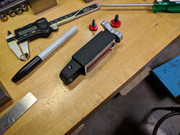 If you put the lever on the other side the lobe doesn't extend beyond the magnet so it's worthless there.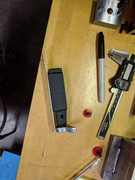 So, maybe I'll just use it to hold a calendar or tap drill chart to my steel cabinet.
JL...............