The hoist part is light duty, I mean.
I have a gas-station style Ramco 50 ton hydraulic press. I love it, but it was a bitch to move the table up and down. So I decided to see how cheaply I could build a table hoist mechanism out of an old 660 pound pulling winch. I used super cheap patio door rollers for pulleys. This is the link to the product I bought at Home Depot:
https://tinyurl.com/y4lyx68h
I used a 660 pound winch made by Dutton Lainson. I bought it years ago intending to make a table hoist for a different press, now long gone. Never made that hoist. The winch went with when I sold the press. I told my buddy who bought the press that I'm looking for a cheap winch and he just gave it back to me. It didn't cost much when I bought it. It's pretty light duty at only 660 pounds, but after I got the thing assembled it lifts the table up and down just fine.
I had a bit of 3/32" aircraft cable. I bought a couple of dollars worth of thimbles and nicopress crimp fittings. That cable is also pretty light, but it seems strong enough.
My design concept isn't original, but a super-inexpensive implementation is worthy of notice. The way my cables and pulleys are arranged, it isn't possible for one end to be higher than the other. The easiest implementation of a cheap table lift is a winch attached to one end of the table, up and over 2 pulleys down to the other side of the table. Crank and the table goes up. But if one side is heavier than the other that side is free to lift up higher than the other. I didn't want that. My design routes one cable from the table up and over and back down to the winch. There is another cable attached to the other end of the table. It goes up to a pulley then goes horizontally across the top, then bends around a pulley with vertical axis. It then routs around that pulley and is attached to the first cable. So when the winch reels in the one cable, both ends lift in tandem. Here's a pic:

I know that image doesn't make it very clear. Here's another: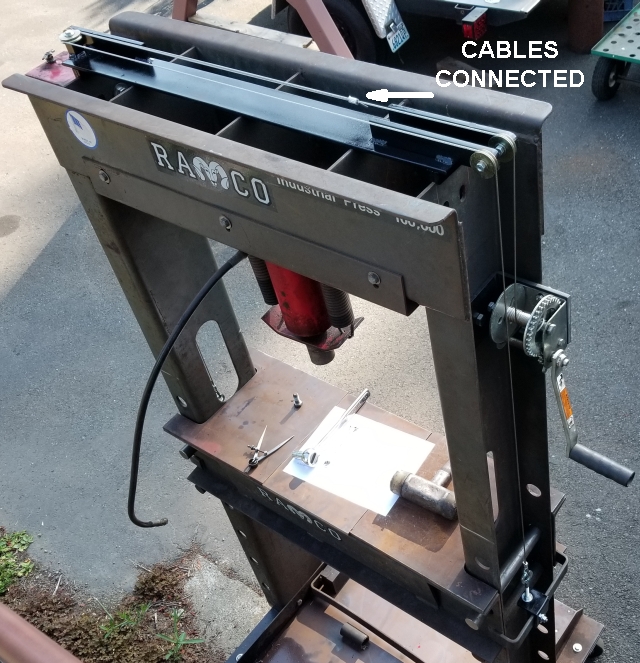 All of the pulleys were mounted to a single 1/4x3" piece of steel flat bar. The bar isn't attached to the press - it just sits up there on top. It is restrained from going sideways but if the cables were disconnected, it could lift right off. The cables are attached to attachment points I fabricated. They are very simple pieces with one hole for a vertical eyebolt and two more holes to implement a pinch clamp. Here's another shot:
Here's one more shot: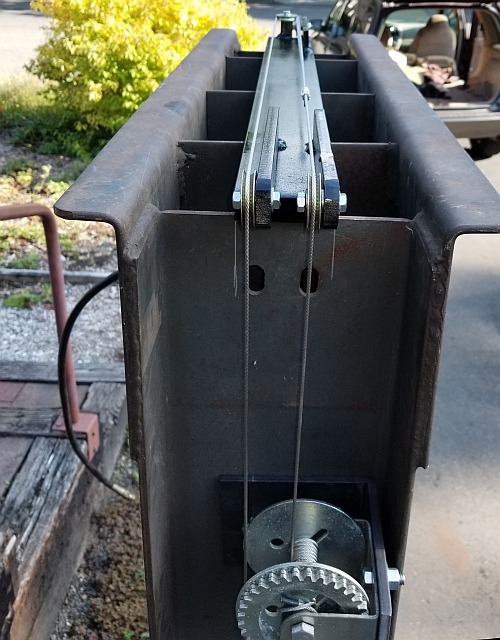 metalmagpie