This is probably going to be an obvious question but I'm a little confused. Just looking to learn from my mistakes really. The short story is that I think I trashed an endmill....but I'm not sure which thing killed it.
Longer story is that I was milling aluminium and having done the side milling fine, I plunged and slotted the two screw holes you can see below. This is with a 10mm uncoated 4-flute HSS endmill - probably not the ideal choice but you work with what you have sometimes and besides, it's "only aluminium, it'll be fine". First plunge (to 6mm depth following a 6mm diameter drilled hole) was fine and then I slotted in 0.5mm DoC passes as I really couldn't be bothered to slot the centre and then clean up both edges....don't judge me too much, it was 90°F in the shop that day with next to no ventilation! These passes went smoothly until the finish pass where I sprayed in a squirt of WD40 to improve the finish. It did seem to make things worse as it stuck all the chips together and made a grey mess rather than silver chips coming out....so I'm wondering if this caused all the chips to get repeatedly re-cut and made an abrasive slurry that killed the endmill. I say killed it because the finish pass, and a subsequent attempt to improve it, were awful. I tried the second hole and the plunge left a very noticeable spiral grove down the hole. Slotting resulted in lots of chatter - which hadn't occurred in the first slot and nothing in the setup had changed. A new endmill (ordered one specifically for aluminium and the finish is great) has fixed the problem both with the chatter and the finish so I'm pretty sure it's the endmill that's toast. There's no chip-welding I can see but under magnification there does appear to be damage to the tips.
Now here's the part that will probably seem like the obvious cause - and I'd agree but it was working fine for the first part. I managed to run this endmill into the top of my vise jaws - it's the first time I've done anything like that (but probably not the last) and I'm annoyed about it. Not much DoC and not for very long but they are hardened and it did cut. I can see (and accept) this being the cause of killing the endmill; what I'm curious about is why it was fine for most of the first slot? Is the answer that this damaged it and the WD40 was the final nail in the coffin? Should I be avoiding WD40 (or any other lubricant) in slots in future?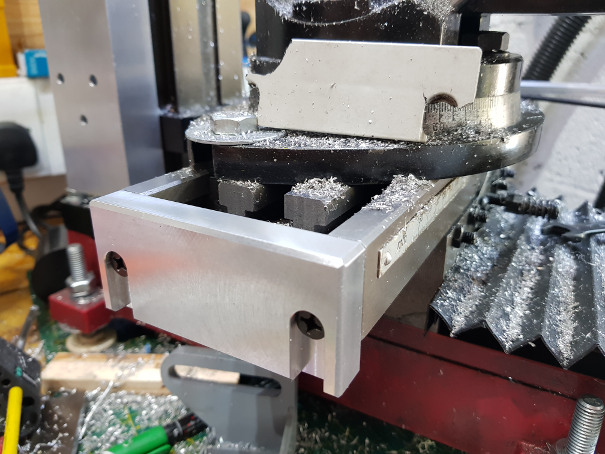 Thanks guys.
Gareth