This project was inspired by a YouTube link in another HFM thread. If you missed it the first time
click here for the link.
In the video is a sheet metal roller that uses a plastic platern below the driven roller. The idea seems to be that the driven roller presses the metal sheet into the plastic platen forming a "dish".
The whole idea got me going and I subsequently spent some time looking at other uses for plastic, including plastic springs etc.
An advantage of the plastic platen appears to be that the usual "flat tip" at ends of the sheet being rolled are much reduced.
I had a suitable piece of plastic so set about working up a design for it. The driven roller is 50mm, the plastic platen is 110mm and runs on 2 supporting idler rollers of 35mm each. I determined not to try and bore a hole thru the plastic platen and add a shaft. In the model the end plates are 300mm apart; though plan would be to go as wide as possible (say) 400 or even 500mm.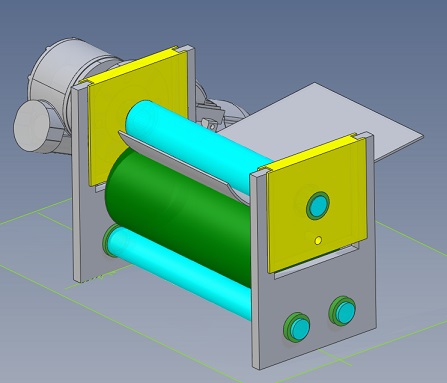 The worm drive would not be essential but I do have it, having acquired it for about $15 in an auction. The reduction is 60:1 and motor is 1440RPM; hence the resultant 24RPM feels about right. My minds eye was making the leap that a possible advantage in using the gearbox would be that the screws pushing down the driven roller could be tweeked while the unit was running ... not to mention that all that cranking would go away ... plus I would not need to hold the whole thing down while cranking.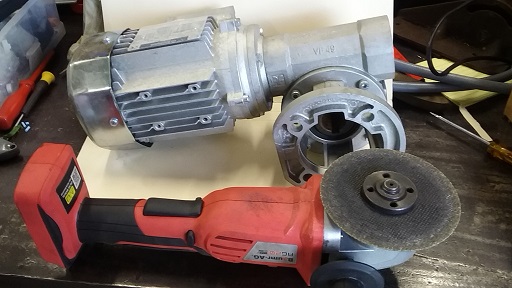 Envisage me at this point on my computer tinkering with the Alibre CAD model. I am at the point of determining what size and how many bolts I would need in order to effectively push the driven roller into the platen without stripping threads.
Decided I had better do a test; so setup the 12ton press, as in image below, and cranked up the pressure till I could see a distortion in the strip of strapping. The strapping is 1.3mm thick and 30mm wide. The test "driven roller" is 35mm ... the one modeled in CAD is 50mm. The plastic platen is 110mm diameter.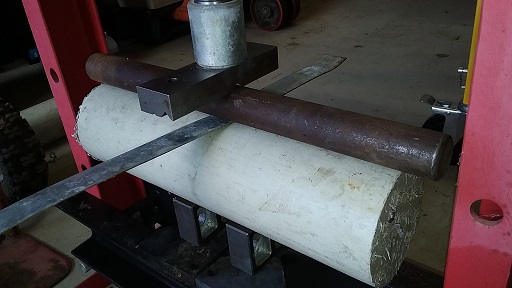 The press has a large dial attached to the hydraulic hose; it took 2 tons of press to get to the distortion in the image below ... way too much in my book.