Almost done- after this, I just have to finish up the TPG-insert facing toolblock.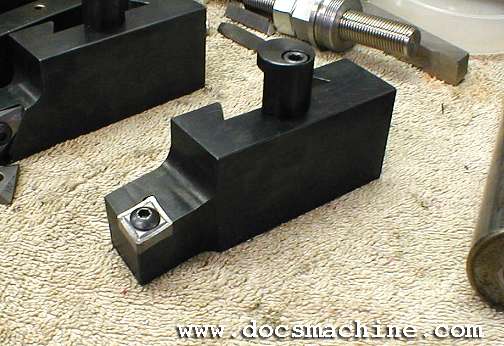 This one holds an 80-degree trapezoidal CNMG type insert. It's hard to see in this single pic- and was hard to cut as well- but the insert"splits the difference" in angle, so that it can both turn and face (the long axis is 45 degrees to the workpiece.)
I also had to give it some negative rake, since they're zero-clearance inserts, and wasn't
that
fun to machine...
I had to do a lot of creative guesswork, since I was cutting faces that were in no way, shape or form square, level or parallel to the block itself.
However, in the end it came out well, though I took a shortcut and rather than using a center pin and a hold-down clamp, I just drilled and tapped it for a screw like on the threading insert block I made the other day. What the heck, the button head will sort of act like a chipbreaker.
Once I finish the last block, I'll have twenty-one, total. That ought to be almost enough...
Doc.