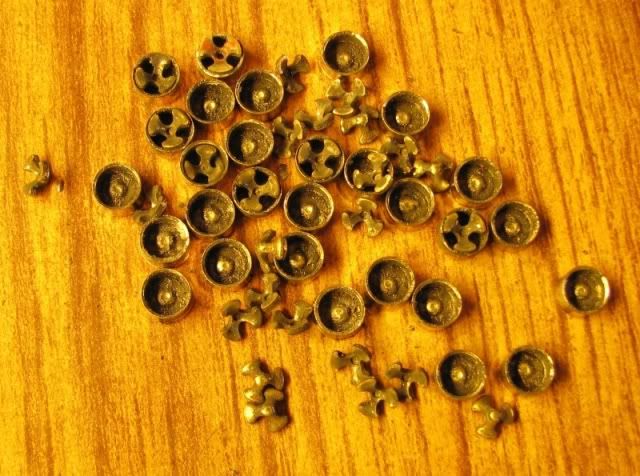 CCI BR2 Primers shot in a .243 Win. - 87 Gr. Hornady VMAX with 37 gr. Varget. This is my first AR syle rifle and I am at a loss for ideas.
Was not supposed to be a hot load but this weapon has been giving me fits on top of fits. It's a Remington R-25 made by DPMS (as you know is owned by Remington as well as Bushmaster) with a 1:10 twist. I bought the rifle and immediately borescoped the barrel upon arrival and everything looked great. I shoot moly in everything I have (4 - 6x284's, 1 - 6.5x284, 1- 6x47 -- all with 1:8 twist rate) and tried it in this barrel after break-in. After 50 rounds with moly I borescoped it (wasn't shooting worth a darn) and there was only moly about the first 4" from the breech. I fire lapped it with 15 coated bullets and borescoped again and it looked like a new barrel.
Now I have right at 350 rds down the tube and it still shoots erratic. Some excellent groups - some terrible.
Nightforce 5.5 x 22 x 56 NXS with Warne Rings (going to change to TPS Rings) and have just installed a Geissele Two stage trigger. I love the trigger once I got it set right. I am shooting non-moly bullets for now but may try moly again if I can't get this figured out.
I know there are some avid shooters here - so if you have any suggestions I am all ears. I have been a long range / tactical shooter for about fourteen years and been reloading for 30+ years so I have tried all of the simple fixes already. Cases are prepped like I was shooting 1000 yd. matches. The chamber seems a little long for a 1:10 twist and the 87 grain boat tail is barely at the bottom of the neck. I have been shooting necked down .308 brass made by Winchester, Remington, and new Lapua brass and all seem to shoot the same.
One thing I can tell you in case you are looking at purchasing one of these rifles is - IT IS HARD ON BRASS. Beats the crap out of it when it extracts it.
If I don't get it straightened out with new rings and maybe a muzzle brake then I will replace the barrel with a custom from one of the major barrel manufacturers.
My current load is 45.2 grs of H4350 - .010 off the lands.
Necks turned and bullet concentricity is dead on.
One thing I have noticed is the bore is much tighter than my other 6mm's when running a patch down the bore with the same size patch and using the same jag.
Any ideas?