For all practical purposes, my winter project is complete. I still need to finish the stock and put a finish on all bare metal. But it has been fired 36 times and all is doing well.
This is a single shot, bolt action. The parent case is a full length 50BMG necked down to a .416. I had Pacific Tool & Gauge to fabricate a match reamer (tight neck). I am shooting Lehigh solid brass, 416 gr bullet having a BC nearing 1.0. The barrel blank was fabricated by Benchmark using a single point cut (1:12 twist). Barrel length is 34 inches weighing 14 pounds and is chrome moly. I am nearing 230 gr of H869 powder with no signs of excessive pressure (yet). Using 204 gr of H869 (starting load) velocities were in excess of 3200 fps. Approaching 229 grains of H869 I realized slightly over 3500 fps. Unless pressure takes a jump, I am thinking that around 231 gr of powder I should either approach or exceed 3700 fps.
The rifle sports a 8X32 Night-force scope topped off with a Barrett BORS. I have 30 minutes of angle on the scope mounting system which barely allows me to sight the rifle at 100 meters. Using BORS and the angled scope mount, I should be able to easily realize 3000 meters with little difficulty.
The trigger is a Jewel set at 15 oz. I fabricated the bolt from 4140 sporting three locking lugs each being an inch long. The bolt was commercially heat treated. The receiver (also commercially heat treated) is fabricated from 17-4SS also having one inch long locking lugs providing a total lock-up of two inches.
I fabricated the receiver as a right-hand bolt with a left-side loading port.
Weight is 35 pounds. It is currently shooting a wee less than a 1/2" - 5 shot group at 100 meters. There is no recoil.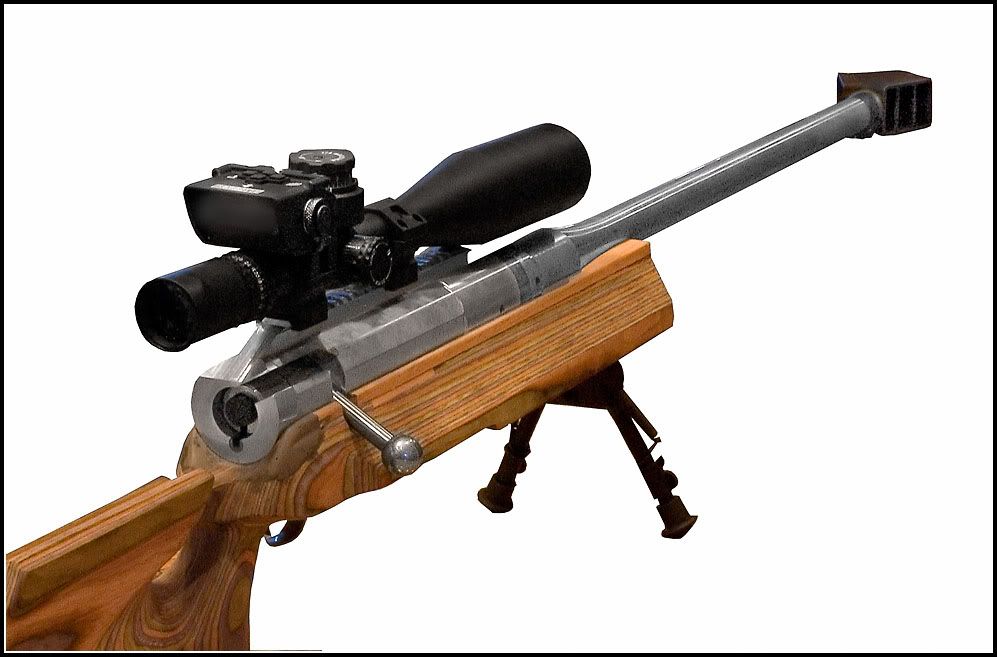 Harold